CTtransit Bus Service Will Expand to the UConn Storrs Campus Beginning August 13
Manchester-Buckland-Storrs Express
1 week ago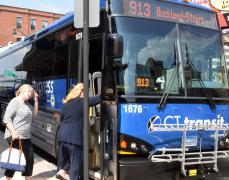 CTDOT is pleased to announce that a new service, the 913-Hartford/Buckland/Storrs Express, will begin operation on Sunday, August 13, 2017. The new route connects downtown Hartford, Buckland Hills and Storrs and will operate hourly from approximately 6:00am to Midnight, Monday through Saturday, and on Sunday from 7:00am to 8:00pm.
In Hartford, buses will make additional stops at CTfastrak Sigourney Street Station and Hartford Union Station. In Storrs, buses will make stops at the UConn Storrs campus and the Nash-ZimmerTransportation Center. Route 913 also serves the Buckland and Tolland Park & Ride Lots.
Connections are available in Storrs with the UConn Transportation system and with WRTD's 672–Willimantic/Storrs route.
Additional service to the Buckland Park & Ride will continue to be provided by the 903–Hartford/Buckland Express and additional service to the Tolland Park & Ride will continue to be provided by the 917– Hartford/Vernon/Tolland Express.
Email
Facebook
Twitter