10-Ride Express Tickets for Reduced Fare Customers Now Available!
Thu Aug 23, 2018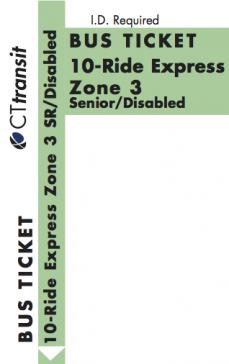 Senior citizens (age 65 and over) and persons with disabilities may travel on CTtransit for half fare at any time of day. Starting in late August 2018, CTtransit is pleased to offer convenient 10-ride tickets for express bus customers who qualify for the reduced fare.
10-ride tickets are prepaid multi-ride tickets with no expiration date. Tickets will be available for purchase at the CTtransit Customer Service & Sales Outlets in Hartford, New Haven, and Stamford starting August 26. Tickets may also be ordered online (please allow 5-7 business days from receipt of order for delivery. CTtransit uses UPS Ground for delivery).
Express fares are based on the number of zones traveled. The minimum fare is 2 zones, the maximum fare is 5 zones.
NEW 10-Ride Ticket for Senior (65+)/ People with Disability
State-issued Reduced Fare Photo Transit ID or Medicare Card must be shown prior to payment.
| Zone | Fare |
| --- | --- |
| 2 Zones | $14.40 |
| 3 Zones | $18.45 |
| 4 Zones | $22.50 |
| 5 Zones | $27.00 |
Free Transfers: 10-ride ticket users must request a 2-Hour Pass from the Bus Operator at the time the fare is paid. Express 2-Hour passes retain the full value of the original zone fare paid, providing unlimited local and express rides for the number of zones paid. Travel on a route that charges a higher zone fare would require additional payment.
Please note, effective August 26, fares on all routes — including express bus routes — must be paid upon boarding the bus.