Attn: 919 Meriden Commuters
5 days ago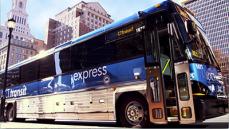 Starting Monday, May 13, the 919 - Meriden Express will be operated using blue & silver CTtransit buses instead of red & white DATTCO buses.  DATTCO drivers will continue to operate the buses; only the vehicle will change. 
As a result of this change, real-time travel information for Route 919 will now be available with Transit App and other travel planning resources. 
Route 919 buses will now be equipped with fareboxes and will accept all payment methods including Go CT Card and magnetically encoded 10-ride tickets & 31-day passes.  Monthly passes will continue to be accepted; simply swipe your pass through the card swipe at the top of the farebox.  Punch-style 10-ride tickets will also continue to be accepted.  To use a magnetically encoded 10-ride ticket or need to activate a new 31-day pass on Route 919, simply insert the ticket or pass into the ticket "dip" as you board.