Changes to Transfers (2-Hour Passes) & All-Day Passes Issued On-Board Buses
Tue Apr 04, 2017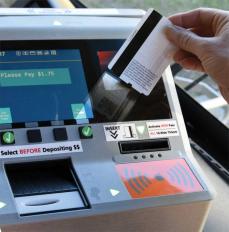 Starting in May 2017, fare boxes onboard CTtransit local, express, and CTfastrak buses will issue Transfers (2-Hour Passes) and All-Day passes using bar-code reading technology rather than magnetically encoded stripe technology.
The bar code is printed on the front of the pass. Scan the bar code on the window with the red light on the fare box—a tone will sound indicating acceptance.
Free transfers issued on local buses are valid for unlimited rides on local CTtransit buses, going in any direction, for two hours from time issued, until printed time and date of expiration. All-Day passes must be purchased at the time the fare is paid upon boarding.