Updated Information on the Governor's Order Regarding Face Coverings
Tue Aug 18, 2020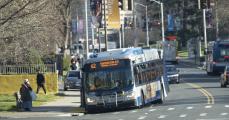 Protect your family and ours by stopping the spread. Passengers should wear a mask or cloth face covering on all CTtransit buses and at bus stops. Do your part to protect our #heroesmovingheroes and we'll do ours to keep CT moving safely during this coronavirus emergency.
EXECUTIVE ORDER NO. 7NNN
PROTECTION OF PUBLIC HEALTH AND SAFETY DURING COVID-19 PANDEMIC - MASKS AND FACE COVERINGS
This order shall take effect immediately and remain in effect for six months.
Dated at Hartford, Connecticut, this 14th day of August, 2020
WHEREAS, in recognition of the effectiveness of using masks or face coverings in preventing the transmission of COVID-19, Executive Order No. 7BB, Section 2 required the use of a mask or face covering by anyone in a public place who does not maintain a safe distance of six feet from other people, but did not require documentation of any kind if a person claimed a medical condition prevented them from wearing a mask or face covering; and ...
WHEREAS, the residents of Connecticut have been shown perseverance and diligence in using protective measures such as face coverings, distancing, and adherence to size limits on social and recreational gatherings; and ...
…despite Connecticut's resulting success in reducing and limiting the prevalence of COVID-19 infections, state and local public health officials, as well as other municipal officials, have reported incidents of non-compliance with mask requirements and disregard of restrictions imposed on social and recreational gatherings; and ...
Effective immediately, any person in a public place in Connecticut, whether indoors or outdoors, who does not maintain a safe social distance of approximately six feet from every other person shall cover their mouth and nose with a mask or cloth face-covering. In addition, individuals shall use a mask or cloth face covering when using the services of any taxi, car, livery, ride-sharing or similar service, or any means of mass public transit, or while within any semi-enclosed transit stop or waiting area. 
Nothing in this order shall require the use of a mask or cloth face covering by anyone for whom doing so would be contrary to his or her health or safety because of a medical condition, a child in a child care setting, or anyone under the age of 2 years. Any person who declines to wear a mask or face covering because of a medical condition shall be exempt from this order and any requirement to wear masks in Sector Rules or other rules issued by the Commissioner of the Department of Economic and Community Development (DECD), but only if such person provides written documentation that the person is qualified for the exemption from a licensed medical provider, the Department of Developmental Services or other state agency that provides or supports services for people with emotional, intellectual or physical disabilities, or a person authorized by any such agency. Such documentation need not name or describe the condition that qualifies the person for the exemption. 
Read more on Governor Lamont's new face covering guidelines here: https://portal.ct.gov/-/media/Office-of-the-Governor/Executive-Orders/Lamont-Executive-Orders/Executive-Order-No-7NNN.pdf