An Important Reminder for Cedar Street CTfastrak Customers
Fri Mar 03, 2017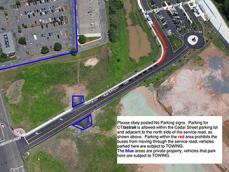 The Stop & Shop Plaza adjacent to the Cedar Street station and the two paved cutouts along Myra Cohen Way are private property.
CTfastrak customers that park in these areas are subject to towing by the property owner.
Parking is allowed along the north side of Myra Cohen Way, but please park only within the designated area between the signs. Cars parked outside the signed area will impede bus operations and are subject to towing.
The Connecticut Department of Transportation is still actively looking for additional parking areas, but have not yet had success with the adjacent property owners.