Introducing the Go CT Card
Wed Sep 19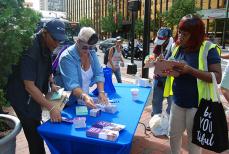 Pay Outside the Box! The simplest way to get the lowest fare.
Getting Started with the Go CT Card
The Go CT Card provides the same discounts you'd receive with a pass, but the card and funds on it never expire. That gives you the flexibility of cash and coins and the benefits of a multi-day pass without having to worry about rides going unused. The Go CT card is currently being tested by a limited number of customers prior to system-wide introduction.
The Go CT card is an account-based system that allows customers to deposit funds into a transportation account. Once your account has been created, simply ride any CTtransit or CTfastrak bus by tapping your Go CT card at the fare box. The value of your transportation will be deducted from your account. When your account runs low, the card reader will inform you that it is time to add value to your account.
If you would like to receive a Go CT card when they become available, please use this form to provide your mailing address and contact information. Cards in the initial mailing are anticipated to be sent in mid-October. If you have already submitted a request, you need not send another.


During the introductory period, Go CT cards will be free. After you receive your card and load money into your account, you will be be able to use the Go CT card to pay your fare on CTtransit and CTfastrak buses. A minimum of $10 must be loaded into your account to begin using the card.
Please note, customers eligible for reduced fares (senior or disabled) need to complete the regular CT Reduced Fare Photo ID application process for a customized Go CT card rather than use this form.


Also be aware that if you receive your CTtransit pass from your employer or they subsidized your pass the Go CT card may not be a replacement for that pass. At this time the Go CT card will generally not replace passes that are employer sponsored. We are working with employers to tailor the program for their employees.


Please contact our help desk at 877-255-7433 if you need assistance in determining if the Go CT card will be right for you.
Learn about how to fund, register and manage a Go CT account at goctcard.com.