New Express Bus Pass & Ticket Options
Tue Apr 11, 2017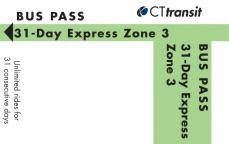 NEW PASS & TICKET OPTIONS
The transition to electronic fare boxes starting May 2017 will open the door to new, more flexible, payment options.
This change will effect customers riding express routes 917 through 927. For express customers on those routes who also ride CTtransit local, CTfastrak, or express routes 901 to 915 the payment options and passes described here may be familiar.
Please note, passengers on the 918, 919, 926, 927 and 950 routes will continue to use the tickets and passes they are familiar with. If you obtain your tickets or passes through your employer, please make sure you note which route you ride when ordering to make sure you receive the correct item.
Starting in May 2017, customers may begin using magnetically encoded tickets and passes. The 31-day pass will replace the monthly pass. Being able to use the 31-day pass increases the flexibility of when passes are purchased and used. Customers will no longer need to obtain and use a pass within a defined month. The 31-day pass is good for 31 consecutive days starting from the first use of the pass.
Ten-trip paper "punch" style tickets will also be phased out, and customers who wish to use 10-trip tickets should purchase the magnetically encoded tickets (also available for all express fare zones). Ten-trip tickets do not expire.
During the transition phase, both the "legacy" tickets and passes and the magnetically encoded items will be valid for travel.
Please refer to the "before and after" guide (PDF format) to determine which ticket or pass is right for you.
Payment by cash is always an option. If a transfer (2-hour pass) is needed, that should be requested at the time the fare is paid.
Starting in May 2017, fare boxes onboard CTtransit local, express, and CTfastrak buses will issue transfers (2-Hour Passes) and All-Day passes using bar-code reading technology. Express transfers (2-hour passes) will retain the full value of the original zone fare paid, providing unlimited local and express rides for the number of zones paid.
BASIC FARE BOX FUNCTIONS
The fare boxes have a screen showing important information, such as the fare due, and allow you to select a day pass or transfer.
Important: this is not a touch-screen, please use the buttons for selections.
A green arrow indicates the ticket slot, pass reader, and currency acceptors are ready for fare payment.
If you need to activate pass for the first time, or if you use 10-ride tickets, insert the pass or ticket in the ticket slot with magnetic stripe facing you and to the right.
To speed your boarding and payment, activated passes may be swiped on top of the fare box. Swipe either direction, with the magnetic stripe down and facing you.
If you are using a ticket issued by a Ticket Vending Machine (TVM) or from another bus, scan the bar-code on the red light.
The fare boxes accept all US coins (except 50¢ pieces) and $1.00. $5.00, and $10.00 bills. Bills must be unfolded and flat. Do not insert $20.00 or other bills.
Bus Operators and fare boxes do not make change. Fare boxes will only accept one ticket or pass per passenger, per transaction.
OTHER FEATURES COMING SOON
You will also notice the orange "target" on the new fare box. This is for a smart card system being developed. Although the green arrow is lighted, the feature is not yet in use.