Real Time Bus Arrival Information & Trip Planning Options
Wed Mar 16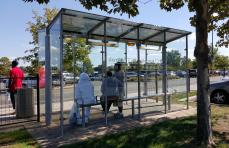 Are you ready to use public transit and want the easiest way to find your route and schedule?
Here are some simple options that can help you reach your destination on time.
Google Maps

Google's popular transit planning tool is available on the CTtransit website, can be found on Google Transit, and also through Google Maps. Open Google Transit through your desktop, mobile, or the Google Maps app, and enter your starting (or current location) and destination addresses. Google Transit will show your bus route, including transfers. All are color-coded, and you have the option of viewing multiple routes. Click on Schedule Explorer to view your choices. CTfastrak and CTtransit Hartford-area bus schedules on Google Maps will update in real-time. The continued development of this technology at CTtransit will enable developers to incorporate real-time updates into all divisions, and its rollout will continue through next year.
TransitApp for iPhone and Android

Do you have a smartphone? If so, Transit App, available (free) through your device's application store, is an easy-to-use route-planning tool. There is no need to enter your starting address. Once the app is open, simply enter your destination address and Transit App will do the rest. The next window will display all route options. Click on a route individually to view its stops. You can toggle your transit mode by clicking Options. CTfastrak and CTtransit Hartford-area Transit App bus times will update in real-time.
CTtransit Trip Planner

CTtransit Trip Planner is available on the CTtransit website. As with Google Transit, enter your starting and destination addresses and click the Get Trip Plan icon. The following window will display your trip summary and details including transfers and all bus stops along your route. You can toggle routes by clicking Route Schedules. You can view landmarks along your route by clicking Landmarks. CTtransit Trip Planner currently displays only static bus schedules.
Comparable transit-planning tools are also available through Apples' iOS native Map App, Bing and other map search engines.


The roll out of real-time transit updates will allow you to plan trips and commutes accurately, and will save you time by keeping you updated with service disruptions.
"
Email
Facebook
Twitter