Route 160 Dillon Stadium Connector (Updated!)
1 week ago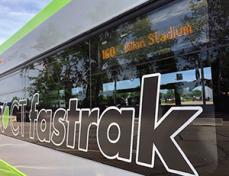 The new CTfastrak route 160-Dillon Stadium Connector operates limited-stop service between CTfastrak Sigourney Street Station, downtown Hartford, and Dillon Stadium on Hartford Athletic, Connecticut's new professional soccer franchise, home match days only. The route 160 charges a local fare ($1.75 for a two hour pass, or $3.50 for an all-day pass).
Service to Dillon Stadium
The following schedule will operate on Saturday, August 17 (just added) and Saturday August 24 for the 5:00pm games. Three trips will arrive at the stadium before the match.
CTfastrak Sigourney St
Station Bus Stop D
Union Station
Transit Center Union Place
Downtown Hartford
Central Row South Side
Dillon Stadium
Van Dyke Ave.
3:25pm
3:30pm
3:35pm
3:42pm
3:55pm
4:00pm
4:05pm
4:12pm
4:25pm
4:30pm
4:35pm
4:42pm
Return Service
Two return trips will depart Dillon Stadium:
One trip departs 10 minutes after the end of the first half
The second trip departs 15 minutes after the end of the match
Note: if the match goes into extra time, the second return trip will wait until 15 minutes after the end of the extra time.
Return trips make stops at Main & Atheneum (downtown by Travelers), Union Station, and Sigourney Street station only. Connections with other CTtransit, CTfastrak, or CTrail cannot be guaranteed.