Route 355 UConn Stamford Connector
Thu Jan 16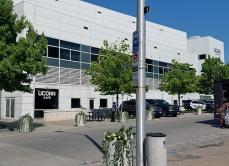 CTtransit offers convenient transit bus service between the UConn Stamford campus and the Stamford Transportation Center via Route 355 (The UConn Stamford Connector). Route 355 operates on UConn class days during the fall and spring semesters only--service resumes January 21, 2020.
The 355 service operates weekdays, with the first trip departing the Transportation Center at 7:00am followed by trips every half hour throughout the day. The last trip departing the UConn campus in the evening at 10:15pm returns to the Transportation Center for 10:25pm. The Connector will not operate if campus closes for weather event.
Buses on the 355 route serve three stops: The Transportation Center Bay "A", Washington & Main at the University's residence (900 Washington Boulevard), and the bus stop on Franklin Street adjacent to the UConn campus. 
Those arriving at the Stamford Transportation Center should board buses displaying the designation sign, "355 UConn Stamford" for service to the UConn Stamford campus.  Those departing campus should board buses with the destination, "355 Stamford Transportation Center", for service back to the station. UConn students will be required to present both their UConn IDs and current U-Passes.
CTtransit service to the UConn Stamford campus is also provided by the following routes:
313 West Broad Street (Buses stop on Broad Street at UConn (outbound) and Washington Blvd. & Whitaker Place (inbound))
335 Washington Boulevard (Buses stop on Washington Blvd. at UConn (outbound) and Washington Blvd. & Whitaker Place (inbound))
336 Long Ridge Road (Buses stop on Broad Street at UConn (outbound) and Washington Blvd. & Whitaker Place (inbound))