Suspension of Bus Fares Statewide Continues Until December 1
Wed Jun 29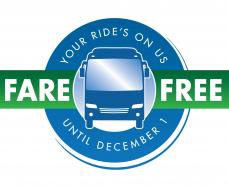 The Connecticut Department of Transportation (CTDOT) announced that all public transit buses will be fare-free across Connecticut until December 1, 2022. A previous policy signed by Governor Lamont made buses fare free from April 1, 2022 through June 30, 2022, but that was extended in the recent budget passed by the legislature and signed by the Governor on May 9, 2022.
Free services include all CTtransit local buses statewide, CTtransit Express and CTfastrak services. ADA Paratransit is also fare free statewide until December 1, 2022.
For information on routes and schedules, check online or call our Customer Service Centers for assistance in planning your trip.
CTtransit will not be able to refund partially used passes.