Understanding Express Bus Fare Payment
Mon Aug 13, 2018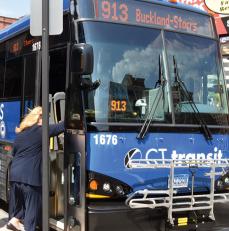 Effective August 26, Fares on all Routes — Including Express Bus Routes — Must be Paid Upon Boarding
Express fares are based on the number of zones traveled. The minimum fare is 2 zones, the maximum fare is 5 zones.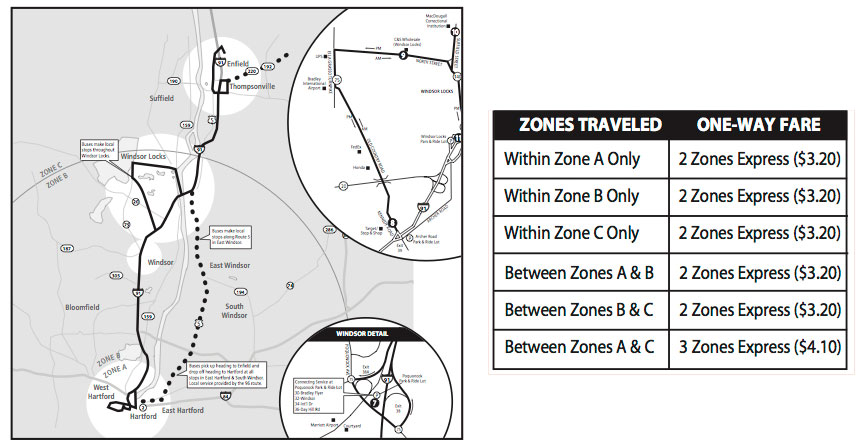 In the example above, from Enfield to Hartford would require a fare for 3 zones, or $4.10, if paying cash for a one-way trip. An All-Day pass would be $8.20 (or double the one-way fare). Click here for a listing of all the express fares by zone, including cash, ticket and pass payment options. Each express route map shows the zone boundaries. 
31-Day passes are valid for 31 consecutive days from first use until the time and date stamped on the pass by the fare box. 10-ride tickets never expire. CTtransit is pleased to begin offering 10-ride tickets for reduced fare express bus passengers starting in September 2018—State-issued Reduced Fare Photo Transit ID or Medicare Card must be shown prior to payment.
When boarding a bus headed inbound toward Hartford, the fare box will be set for the full fare to Hartford. Customers who plan to get off the bus along the route must inform the Operator of their destination before paying their fare to ensure they are not overcharged. Cash customers planning to ride later in the day are encouraged to purchase an All-Day pass to speed boarding on their return trip.
Starting August 26, when boarding a bus traveling outbound from Hartford customers will pay their fare as they board the bus. Customers paying cash must inform the Operator of their destination before depositing their payment.
As an example from the map above, if boarding in Enfield but only riding to Windsor Locks, the fare for this 2 zone trip would be $3.20, and when boarding the customer would let the Operator know that Windsor Locks was their destination so the fare box could be set to accept a payment for 2 zones.