Understanding Schedules
Each route has a schedule or timetable that lists the departure/arrival times of the bus along that route.
Timetables
The timetable notes the destination(s) of the route, where to transfer to other bus routes, and the days that the service operates.
Timetables are available on the bus, at the Customer Service & Sales Outlets, online, or by calling the Customer Service Centers.
Terms You Need to Know
Timepoints
Timepoints are places the bus is scheduled to reach at a specific time. Times listed in columns below each timepoint are when buses are scheduled to leave that stop and correspond to places on the map. The timepoints listed are for reference and do not represent the only places the bus will stop.
You should be at your stop at least five minutes before your bus is due. 
As a reminder, although pick-up times are not listed in the public timetables for every express bus stop, express buses do make stops at other locations along the route. Please refer to individual route maps for express bus stop locations.
Symbols
Special symbols in front of trip times have different meanings, so please refer to the route notes at the bottom of the timetables.
Express Routes Timetables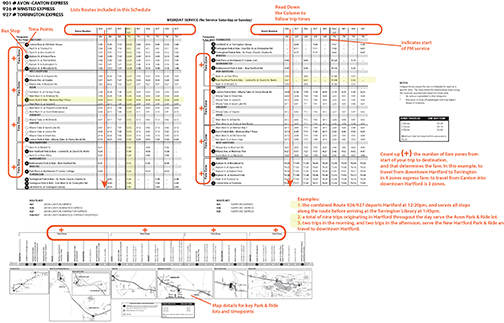 The times listed in schedules are approximate, delays may occur subject to weather or traffic conditions. You may wish to consider adverse conditions when planning the time of your trip.