News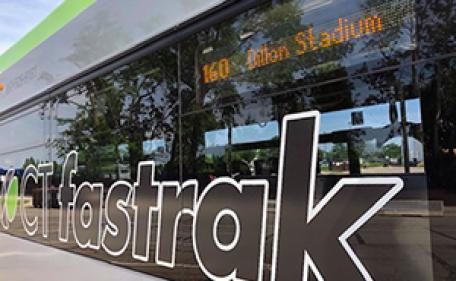 Sun Sep 01
The CTfastrak route 160-Dillon Stadium Connector operates limited-stop service between CTfastrak Sigourney Street Station, downtown Hartford, and Dillon Stadium on Hartford Athletic, Connecticut's new professional soccer franchise, home match days only. The route 160 charges a local fare ($1.75 for a two hour pass, or $3.50 for an all-day pass).
News
The Connecticut Department of Transportation (CTDOT) announced today the availability of the new Go…
Beginning August 26, CTtransit offers convenient transit bus service between the UConn Stamford…
How to Ride
Each route has a schedule or timetable that lists the departure/arrival times of the bus along that route.
All CTtransit buses have wheelchair lifts or ramps for access by persons with disabilities.
Buses can carry a maximum of two bikes, on a "first-come, first served" basis.
Please call our Customer Service Center if you think you left something on a bus.
You Know Your World. And You Know When Something's Not Right.
Here are some simple options that can help you reach your destination on time.