CTtransit and CTfastrak 31-Day Bus Passes Available for Purchase on Smartphones
Thu Sep 07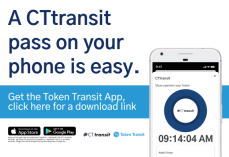 The Connecticut Department of Transportation (CTDOT) today announced that CTtransit and CTfastrak customers can purchase their 31-day pass on their smartphones beginning Friday, September 1, 2023, through Token Transit.
On April 1 of this year, a pilot program was launched in partnership with Token Transit to allow customers to purchase two-hour Adult, Senior/Disabled, and Youth bus passes for all local CTtransit and CTfastrak buses on their smartphones. Customers routinely requested additional fare and payment options while CTDOT was developing its first Customer Experience Action Plan.
"Due to the success of the pilot program over the last several months and feedback from our customers asking for more fare options through their smartphones, we're excited to include 31-day passes for purchase through Token Transit," said Connecticut Department of Transportation Bureau Chief of Public Transportation Benjamin Limmer. "The ability to purchase bus fares through Token Transit improves the customer experience by giving our customers more freedom in paying for their fares and improving boarding times at stops."
To use Token Transit, customers can download the Token Transit mobile app or use Transit App, Moovit, Agile Mile, or Google Maps, which are all integrated with Token Transit.
Here's how it works:
As buses approach, customers who purchased passes via Token Transit will be able to open their app and tap on the pass to activate it.

The applicable period (two hours or 31 days) for which the ticket is available begins once the pass is activated.

Once on the bus, customers should follow the instructions in the app to validate the ticket and show the bus operator.
All CTfastrak and CTtransit local buses will accept Token Transit, including the Hartford, New Haven, and Stamford Divisions, as well as CTtransit in Bristol, Meriden, New Britain, Wallingford, and Waterbury.
CTtransit Express buses are not currently included as part of this pilot program. Any customer who uses Token Transit on a CTtransit local bus and transfers to a CTtransit Express bus will need to pay the difference in fares with cash at the farebox of the express bus.
Here's what passengers need to know when using Token Transit:
Passengers will need a mobile device with an internet connection to purchase and activate passes. The mobile ticketing technology works for iOS and Android devices.

Purchased passes can be used immediately or stored for future rides. Fares purchased on Token Transit never expire.

Passes can also be sent to any phone number, allowing customers to deliver bus passes to family and friends instantly.

If passengers need to transfer to another bus operated by another participating Connecticut transit agency, they can request a paper transfer upon boarding the initial CTtransit or CTfastrak bus. For a list of the transit agencies that accept transfers from CTtransit and CTfastrak, please visit 

CTtransit.com/fares/transfers

.

Several security features are used to prevent fraud, including moving imagery to prevent screenshots and a current time ticker to prevent screen recordings.
The Go CT card will continue to be available to CTtransit and CTfastrak customers and will use a system called Fare Capping to calculate their fares and pay the lowest possible price with no guesswork for the user.
Token Transit partners with 143 other United States and Canada transit agencies.
For more information, help planning a trip, and a list of routes, visit CTtransit.com.
FOR MEDIA INQUIRIES:
OFFICE OF COMMUNICATIONS
860-594-3062
CTDOTMedia@ct.gov