The ParkConneCT Program Connects You To Connecticut State Parks!
Thu May 11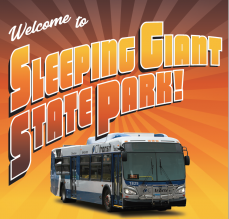 The Connecticut Departments of Transportation and Energy and Environmental Protection are pleased to announce the ParkConneCT program, a collaboration of CTDOT and CT DEEP. This program aims to provide safe and reliable transportation within a 10 minute walk to Hammonasset, Indian Well, Osbornedale, Sherwood Island, Silver Sands and Sleeping Giant state parks.
The ParkConneCT Program will run from Memorial Day weekend to Labor Day weekend (05/27/2023 to 09/04/2023). Connections to the parks listed above are also available from nearby train stations, providing access to the parks on a regional basis.
Please visit each transit operator's website below for assistance on planning transit to the park and the individual park websites to see what amenities are available at that location. Restrooms, shelters, and concessions vary from park to park and may not be available at all locations.
Bus Connections
River Valley Transit: 641 Old Saybrook/Madison and Madison Shuttle
CTtransit Route 201 from New Haven operates weekdays and Saturdays, meeting the River Valley Transit 641 route on weekdays and Madison Shuttle on Saturdays, serving Hammonasset. Note that the 641 does not stop inside the park – the closest stop is at Route 1 & Hammonasset.
For more information on the scheduled times and route maps for the above service please visit River Valley Transit.
Bus Connections
Trail Connections
 CTrail Connections (Hartford Line/Shore Line East/New Haven Line)
Visitors can indirectly connect to routes 228 and 229 at the New Haven Green by taking the Union Station/Green Shuttle on weekdays from New Haven Union Station or walking from State Street Station to the Green.
Bus Connections
Silver Sands Shuttle operated by Milford Transit District
Bus stop is at the boardwalk inside the park
CTtransit Routes 261 and 271 from New Haven operate daily, meeting the Silver Sands Shuttle route at the CT Post Mall.
For more information on the scheduled times and route maps for the above service please visit the bus operator's website.