Construction Detour for Route 212 Customers
Mon Apr 06, 2020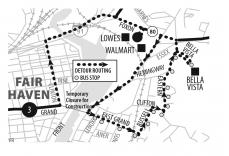 Effective April 13, Route 212 buses will detour the Grand Avenue Bridge during a a reconstruction project which is estimated to be on-going for approximately 18 months.
During the construction project, the 212 buses will detour outbound from Grand Avenue  and Clinton via Middletown Avenue and Foxon Boulevard to the Walmart Supercenter Parking lot.  Detours routing will not be able to serve the stops at Grand & Front or Grand & Perkins. Passengers will need to board at Grand & Clinton Ave.
The buses will make connections with all outbound/inbound 212 buses at the Walmart Supercenter with destinations servicing Bella Vista Apt, Universal Drive, & Foxon Rd areas. 
The service will operate a one-way loop from Walmart, R/Quinnipiac Ave, L/ E. Grand Ave, L/ Russell St, R/ Clifton St, L/ Eastern St, R/ Bella Vista Dr, circle Bella Vista Apt, R/ Eastern St, L/ Foxon Rd, L/ Walmart Supercenter.  This 10-minute loop will operate every 20 minutes from the Walmart Supercenter bus stop.
Inbound Bus Stops along the bus bridge loop will not be serviceable.  Please board buses in this service area at bus stops in the outboard direction and make all connections at the Walmart Supercenter.