TIPS FOR A SUCCESSFUL TAP!
Mon Nov 12, 2018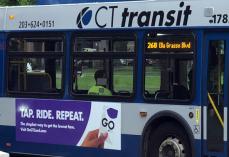 The Go CT card is "powered" by an electronic chip within the card. Just like bank cards you may use with chip technology, it takes the card chip a few moments to activate when held on the card reader.
Go CT customers will have the most success with their taps of the card if they remember these tips:
Place the Go CT card directly on the orange target of the card reader.
Hold it there for a few moments.
A green "transaction complete" message indicates the card chip has been successfully read and the card balance is sufficient.
Express route customers must also remember to hold their card on the card reader at the fare box to 'tap off" when they exit.
Many of the red "error" messages the fare box may display for a Go CT card simply indicate the card was not held on the reader long enough for a complete reading of the card chip. If you encounter these messages, please just try again and hold your Go CT card on the target a little longer.
If you get a "Misread Media", "3rd Party Card", or "Declined-Try Again"  message, please tap and hold the card again.
Reminders:
    Do not punch holes in, bend, fold, or otherwise mutilate your card.
    Do not laminate your card.
    If you plan to store your card in a protective plastic sleeve, please remove the sleeve before tapping your card on the card reader.