Operations Updates
Thu Aug 06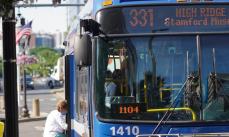 Regularly scheduled services are operating, with some modifications. See Alerts and News for adjustments.
Passengers should wear a mask or cloth face covering on all CTtransit buses and at bus stops.
To safeguard drivers and the public, and protect continuity of operation of Connecticut's bus system passengers should board from the rear door with the exception of passengers who are in wheelchairs and others who require the bus to kneel. Rear door boarding will help maintain recommended social distancing by providing space of six feet or greater between customers and bus drivers.
Customers should practice social distancing while waiting at bus stops and while riding the bus (Centers for Disease Control (CDC) recommends a distance of approximately six feet from others, when possible).
CUSTOMERS WHO FEEL SICK SHOULD NOT USE PUBLIC TRANSPORTATION.
Attention Travelers: A Connecticut Travel Advisory is in effect. If you are coming to Connecticut from a state impacted by COVID-19, you are asked to quarantine for 14 days. For a list of impacted states on the advisory, guidance, and exemptions, visit ct.gov/coronavirus.  Connecticut requires face coverings and social distancing.