Operations Status Update
Thu Mar 19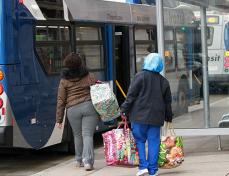 At this time most regularly scheduled services are operating, with some exceptions. In response to significantly lower ridership, most Hartford area express bus routes adopted reduced service schedules beginning Wednesday, March 25.  See https://cttransit.com/alerts for adjustments.
CTtransit is temporarily closing the Sales Outlets in downtown Hartford, New Haven and Stamford. A date to reopen the outlets has not determined.
Public Transportation is considered an essential service. See here for Governor Lamont's Executive Order No. 7H.
The Connecticut Department of Transportation (CTDOT) is announced immediate temporary changes to bus operations due to the coronavirus (COVID-19) outbreak in Connecticut. These changes are being implemented to safeguard drivers and the public, and protect continuity of operation of Connecticut's bus system during this difficult time. These changes will be implemented on all CTtransit and CTfastrak buses, as well as all transit districts in Connecticut.
Passengers should board from the rear door with the exception of passengers who are in wheelchairs and others who require the bus to kneel. Rear door boarding will help maintain recommended social distancing by providing space of six feet or greater between customers and bus drivers.
To ensure this outcome, the CTDOT strongly encourages the public to reserve bus and public transit for ESSENTIAL TRAVEL ONLY such as getting to and from work or for procuring essential needs. Customers should practice social distancing while waiting at bus stops and while riding the bus (Centers for Disease Control (CDC) recommends a distance of approximately six feet from others, when possible).  CUSTOMERS WHO FEEL SICK SHOULD NOT USE PUBLIC TRANSPORTATION.